ThatDarkRPServer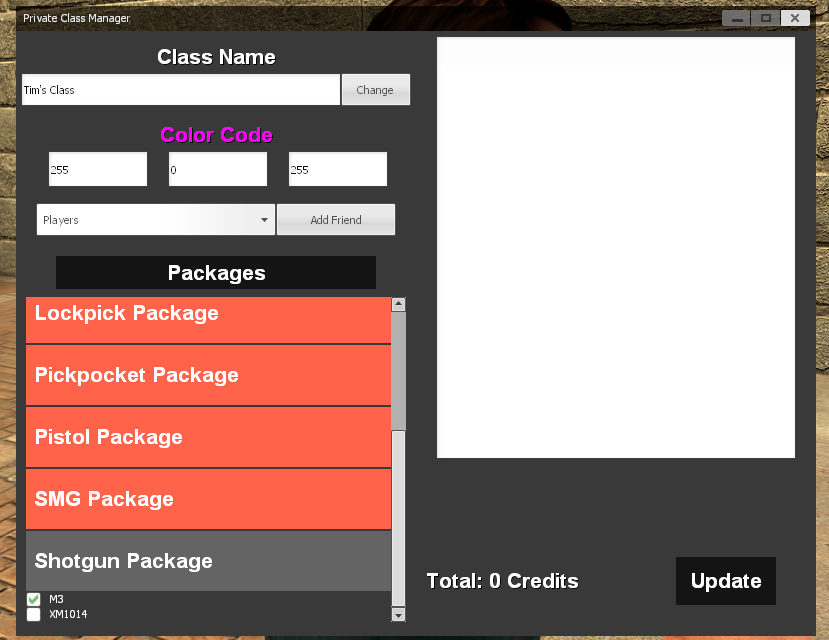 Everyone's begged for the return of Private Classes. Back in December, I decided to finally accept them back, but we needed an easy system to manage them and to make sure they aren't as overpowering as they were before.

Private Class Manager
Everything about your private class is managed through an NPC. To create a private class now, all you'll need to do is open the Class Manager menu and purchase the base package. Reload that menu and you'll be able to change the class name, color, add friends, and add packages on the fly. Currently, there are packages to add a pistol, SMG, shotgun, assault rifle, lockpick, pickpocket, and keypad cracker.

Each package can be modified as well. Every CS:S weapon has been added to the system. So, let's say you purchase the pistol package and select to spawn with the Desert Eagle. After playing for a while, you want to try another pistol. You are now able to open the menu back up and swap the Desert Eagle for a Glock. The next time you...
Hunger
Yes, I did it. I brought back the experimental hunger system. I played on several jobs last night just to test their potential usage. Both the Farmer and Cook classes are basically useless without some sort of requirement to make people eat. So, we have the experimental Hunger Level again. Once your Hunger Level reaches 10, your run speed will decrease. Once you hit 0 Hunger, you'll slowly lose health.

Fruits and vegetables, along with cooked meals provide points to restore your Hunger Level.

Test it out, let me know if the level moves too fast, and we'll balance it some more.

Police Test
Due to popular request, the Police Test has been re-added. With the test, once players successfully pass the test, they won't ever need to take the test again and can join the Police jobs without waiting on player votes. Before taking the test, please review the server rules. If you fail to pass the test, you must wait 1 hour before being able to take it again....
Enhanced Death System
I saw this on GModStore and wanted to give it a shot. The enhanced death system adds a bunch of unique features to dying. Now, when a player dies, a corpse will be left behind. Leaving a corpse behind allows Police Officers to figure out how that person died and by who if someone did kill them. Medics are paid every time they clean up a dead corpse on the street. Hobos, Dogs, and Cats can eat dead corpses. Bloods and Crips members are able to pour gas on the dead corpse and making the body disappear.
The system adds a lot of new features to the gameplay that I wanted to try out. Check it out and let me know what you think.
Gang Money Rewarded
The gang money accumulated in December has been rewarded to the top three gangs in the leader board.
Here's the payouts:
420 Gang #1: $102,000 per player
Leviathan Gang #2: $71,655 per player
THF Gang #3: $13,433 per player
Here's the top 10 for December 2017:...


From myself and everyone here at ThatDarkRPServer, we wish you a Happy New Year!

2017 came and went so fast, it's crazy. You know what else is crazy? This is my 7th Happy New Years post on ThatDarkRPServer. We've got to be breaking records at this point, right? 2017 was a real roller coaster of a year for us. We pretty much hit rock bottom, and then soared back up for much of the spring and summer. Player turnouts and development has slowed down again, but we're definitely working on those issues. Building a stronger staff team and providing more healthy updates are definitely on our New Years Resolution board.

Here's to a prosperous 2018 for ThatDarkRPServer!

Fireworks
For the next day or two, I have placed the seasonal fireworks addon on the server. There's several effects to choose from and play around with. Most of the fireworks should cleanup on their own after they've finished shooting, but if they don't, just press 'e' on them again or shoot them....​


From myself and everyone else here at ThatDarkRPServer, we wish you all a safe and Merry Christmas!

Man this year has flown by hasn't it? Its already Christmas! And TDRP is still here to celebrate it with you! Things looked pretty rough for a while, but we've made a comeback once again.

TDRP aside, enjoy the holiday. Spend it with family and friends. Eat some good food and exchange your gifts. When you're all done, hop on the server!​
Love,
Tim & Staff
A few adjustments today.

Weapon Crafting Changes
-Added back all of the enhanced and ruby infused weapons to the crafting station.
-Lowered the rarity tiers of the craftable knives.

Money Printers
We raised the printout rate on printers weeks ago for a double RP$ event, and we forgot to set the prices back down. Whoops. Printer rates have been changed.

There were a few more changes that were planned, but they weren't ready yet. Expect those changes in the next few days.

Police & Gang Territories
Gang territories that are captured by gangs can now be captured by Police classes. If the Police successfully capture a territory, all players that are in any of the Police classes will be rewarded with a split cut of the territory money. The territory will be set back to unowned.
Gang Money Reset
I know, I know, we're 10 days late. We were waiting to fix a small issue with the gang money distribution system. It should be fixed now. The gang money has finally been reset and ready for December.
Members of the gangs Leviathan, Jimbos, and Lucky Charms will receive a cut of their gang money. The money has been deposited in your bank account.
Here's the top 10 gangs of November:

Additional Territories
Since we were late getting this done, I have created two extra gang territories on the map. Those territories are Pond and Suburbs Extension.
Other Adjustments
-The...
​
December is here, and it's time to give out some gifts.
Throughout the month of December, you will be able to receive a gift every 24 hours from our Daily Christmas Present Box. A majority of the gifts will be standard weapons that can be purchased from gun dealers, but there is a chance of receiving some new goodies.
New Weapons Added:
-Toy Hammer
-Gold Toy Hammer
-Smoke Grenade Rocket
-Xmas Twin TMP's
-MG3 XMAS
-MK23 SOCOM
-AF2011A0
List of items that can be received from the gift box:
-Desert Eagle
-FiveseveN
-Glock 18
-HK USP
-FAMAS
-HK UMP45
-FN P90
-GS3G1
-Galil
-M249
-M3
-XM1014
-AWP
-Chain Grenade
-RPG Rockets
-Xmas Twin TMP's
-MG3 XMAS
-Firework Grenade
-Toy Hammer
-Gold Toy Hammer
-Smoke Grenade Rocket
-MK23 SOCOM
-AF2011A0
-SKULL 3(B MODE)
-RPG
Christmas Sale
Throughout the month of December, we've put our shop items on sale. Save even more by purchasing VIP or Donor Admin in 2 or 3 month...

​
Tomorrow will be the first of December, and we figured tonight would be the best time to re-introduce the holiday Christmas map. If you played last year, you will already be familiar with it. Things may seem a little bare at the moment, but don't worry, the staff team will start to decorate the map with holiday cheer this weekend.
Christmas Props
Along with the Christmas map, I've brought back a collection of Christmas themed props in the spawn menu to get creative with.
Santa
I've gone ahead and added a Santa Claus job. Use the job to spread Christmas cheer throughout the server.
Snowballs
Everyone will now spawn with a snowball weapon. Snowballs deal 1 damage point.


From myself and all of us here at ThatDarkRPServer, we wish you a very happy and safe Thanksgiving!
​
I gotta say, we're doing extremely well this year versus last year during this time. We're really making a comeback. I want to thank all of our new staff members for rising up and helping us rebuild. Without their time and dedication, we would still be struggling to keep a handful of players on.

We've got several projects in development, along with the suggestions forums active daily to continue improving our gameplay. Plus, Christmas is right around the corner, and the management team is gearing up for it. We're hoping to make it our most festive year yet!

TDRP aside, spend the day with your friends and family and enjoy their company. Think about what you're thankful for and eat delicious food until you pass out. If you don't plan on doing that or you aren't American, hunt some Thanksgiving Headcrabs or play Fire Mixtape in blackjack.

Love,
Tim...​